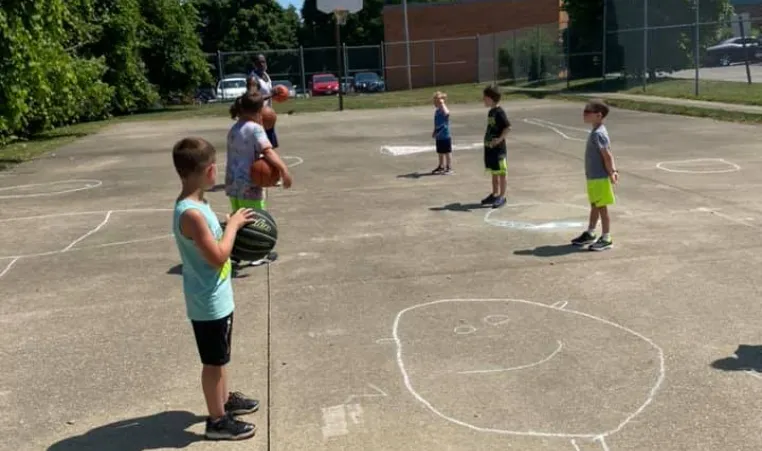 Learn the basics and practice your game at our youth sports camps.  Each one-week camp will focus on a different sport.  Children will spend the week learning various drills and activities to improve their game, then demonstrate what they learned with a scrimmage or performance on Saturday.  
Activities will take place outside whenever possible, though groups may go to the gymnasium or multi-purpose room during inclement weather or when necessary for certain drills.
Camp will be held Monday through Friday from 2 to 4pm for children in grade 3 and older, or 4:15 to 5pm for children three years old through second grade.  All ages will perform/scrimmage from 12 to 1pm on Saturday.  Cost for each week is $30 for members or $50 for participants for the older age group, or $25 for members and $40 for participants for the younger age group.
The camp schedule is as follows:
June 21-26:  Cheer
June 28-July 3:  Football
July 5-10:  Basketball
July 12-17:  Soccer
July 19-24:  Track
July 26-31:  Wrestling
August 2-7:  Basketball
August 9-14:  Soccer
August 16-21:  Track
Click here to register for all upcoming camp sessions.
NEW THIS SUMMER!!!!  Spire Institute has donated five FREE non-boarding camp registrations to be given away to registrants of any YMCA sport camp this summer!  All children registered for any of our YMCA sport camps before June 30th will be entered into a drawing, and five names will be drawn on June 30th to receive the free registrations. 
SPIRE Camps encompass skill development, technical/tactical training and athlete performance training within a competitive environment to help prepare you for the next level. There is more to becoming a champion than just improving skills and polishing technique. SPIRE provides physical, and mental performance training with nutrition and hydration guidance, as well as sports-specific training/competition programming in swimming, track and field, basketball, esports and drone racing.